Eye Link Conveyor Belt
Designed for harsh applications that require an extremely heavy-duty belt, Eye link belts are custom designed with almost unlimited configurations to meet your applications demanding requirements. Additionally, Eye link belts are available with multiple drive options including friction driven cage rollers, positive drive sprockets, and an optional chain edge drive for enhanced tracking and reliability.
Specification
Belt specification details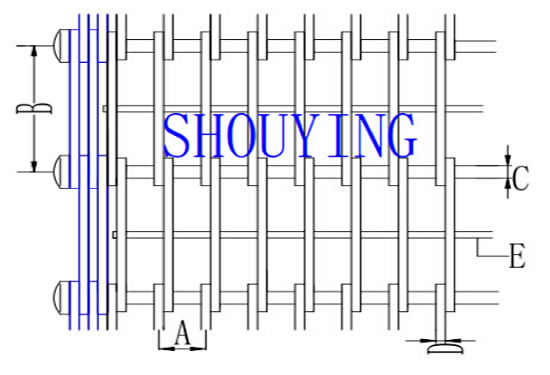 | | |
| --- | --- |
| A | Loop wire pitch |
| B | Cross rod pitch |
| C | Cross rod diameter |
| D | Loop wire diameter |
| E | Diameter and number of underwires |
General size
Dimension
Production capabilities
A=Cross rod pitch (mm)
30.0 - 75.0
30.0
50.0
50.0
75.0
50.8
B= Loop wire pitch (mm)
4.0 - 25.0
4.0
7.5
12.5
15.0
11.0
C=Loop wire diameter (mm)
2.0 - 3.0
2.0
2.5
2.5
2.5
3.0
D=Cross rod diameter (mm)
4.0 - 8.0
4.0
5.0
5.0
8.0
8.0
E=Diameter and number of under welded wires (mm)
1.5, 2.0, 2.5 and 3 mm, number of underwires: 0, 1 and 2
to be
confirmed
to be
confirmed
to be
confirmed
to be
confirmed
to be
confirmed
Plate links width (mm)
max 3.5
with plate links
with plate links
with plate links
with plate links
with plate links
Eye link belt types
Eye-link belt without spacers

It is designed and built without spacers or perpendicularly welded under wires. This allows excellent flow-through in applications where no cross support required. This type without spacers is also easily repaired with minimal cost.

Eye-link belt with under welded wire spacing

It provides the largest range of available gap width, up to 50mm. Depending on the cross rod pitch and applications requirements, one, two or three wires can be welded to the underside of the links.This configuration makes cleaning and sanitation easy and more efficient.

Eye-link belt with rings as spacers

This belt increase the belt gap uses rings between the wires, more air will circulate around the bottom of the product by increasing the belt gap.The gap is set by one or more rings placed between adjacent links on the cross rod. The gap width is determined by the number and thickness of rings used.

Eye-link belt with springs as spacers

In heating or freezeing applications, springs help create a more dimensionally stable belt. The wires are able to move on the cross rod.  The gap width is secured by springs placed on the cross rod between adjacent links.  Permanent fixing of the wire links does not occur with this method.  They are held in relative position by compression of the springs.
Belt edges
Standard plate edge 

As the simplest belt edge, it is characterized by pieces of steel plates fastened to the cross rod by welding steel rings at the end for containing the integrity of the conveyor belt.

Reinforcing plate edge 

This type of edge features added reinforcing plates mounted to the conveyor belts before the connecting rod is welded. This design increases the width of belt as well as enhances the strength of this belt.

Chain link edge 

The chain link edges not only provide an alternative driving method but also make the belt much stronger than reinforcing plate edge.

Side guard edge 

Side guard edges features erect side plates to protect conveying products from falling off from the belt. As your request, guard plates can also be mounted across the belt for food separation.
Materials available
Stainless steel 304
Stainless steel 316
Galvanized steel
Carbon steel
Other materials demanded by the clients.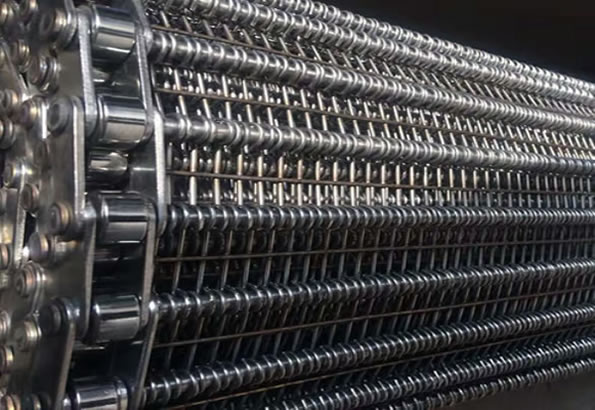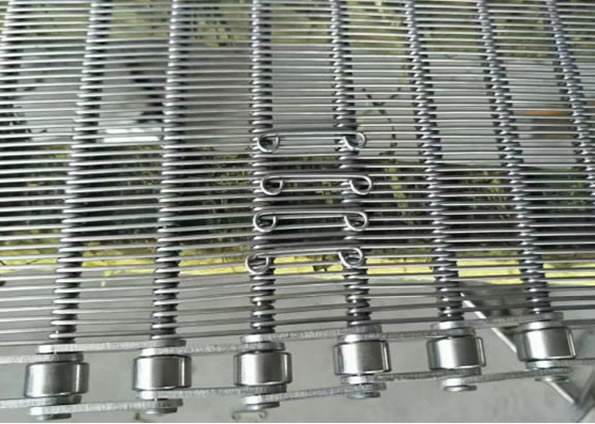 Sprocket
In order to choose the most appropriate sprocket material for you application, please considering the conditions under which the belt will operate. Conditions such as temperature variations, erosion, abrasion.
Sprocket material include
Stainless steel, Nylon, Delrin.